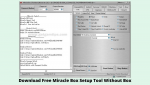 Features of Miracle Box 2.82:
Qualcomm Add Auto Identify Loader in Models.
Qualcomm Improve QCN + IMEI Write.
Add MT6765/6762/6799/6739 new ID Support.
Add VIVO Y83 Format/IMEI Support.
Improve Read Network Code And Add Direct Unlock in Flash Mode.
MTK Improve IMEI Repair For Power On.
MTK & Qualcomm Add News Models Select support.
Features of Miracle Box 3.04:
Add MT6785 Read/Write Support (World's First).
MT6785 Format/Factory Reset Support (World's First).
Read mobile Info Before Read/Write/Format.
Format in Meta Mode.
Android Improve MTK Flasher Tools Add MT6785 Support.
Android Improve MTK Flasher Tools Update Data Base.
MTK Improve UI/IMEI.
MTK Improve Auto Format For EMMC.
SPD Add SC9863A Format/Flash Support. (World's First).
SPD Add SC9863A Read/Factory Reset Support (World's First).
Improved Some Functions for Smooth Work.
Add Search Model Option.
Qualcomm Improve Write Flash.
Oppo/Vivo Meta Mode Factory Reset Support.
MTK/Qualcomm/SPD 370+ Models Added.
Download Miracle Box Setup tool:
make sure your PC meets minimum system requirements: Windows XP/Vista/7/8/10, memory Space free minimum of 500 MB required and RAM 512 MB.
This Tools Work Without Box
File Name: Miracle Box setup Tool v2.82
Setup Size: 813 MB
Compatibility: 32 Bit / 64 Bit
Miracle Box v2.82 Full Setup –
Download
Miracle v2.99 –
upcoming
Latest Version Miracle v3.04 –
upcoming
Instructions to Install Miracle Box on your pc:
First, disable your antivirus and install these tools.
Download the Setup zip file and extract it on your pc.
just open the extracted folder and double click on the .exe file.
Now installation wizard just next to next.