Firmware AQM-LX1 FIX Fingerprint after reset huawei id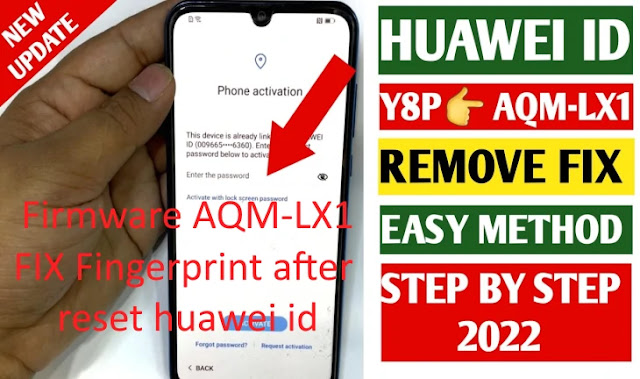 Welcome here you will track down All Type Android Solution.
AQM-LX1 FIX Fingerprint after reset huawei id
Today we will show you how to sidestep Huawei ID and FRP lock (Google account Security) on Huawei Y8p AQM-LX1 Huawei ID and FRP. On the off chance that You Are Now Facing Huawei ID and FRP Lock After Doing Hard Reset or Factory Reset Then Don't Worry in this strategy no need any case dongle or glimmer document. we made Huawei ID and FRP document for your android gadget simply use instruments and Huawei ID and FRP reset record.
warning
Google has added a security feature (Factory Reset Protection) to its Android OS. This feature is important and is intended to avoid misuse of the device during thefts. But at the same time, some users have got into trouble because of it, when they have forgotten their GMAIL or password credentials after the hard reset. So, in this tutorial, we have brought the latest method to Bypass FRP Wiko View4 Lite google account unlock FRP Lock with PC by following some simple steps.

The process of bypassing FRP in the latest versions of Google's Android is becoming challenging with every update and every new device.

Once you set up a Google Account in your Wiko View4 Lite, the FRP is active, so after performing a Factory Data Reset, you'll be required to log in to the GMAIL username and password that you set up on the device, so if your Wiko View4 Lite is stolen or lost, the device can't be used. In that case, frpbypass.net will give an amazing way to the FRP unlocking process for your Wiko View4 Lite mobile, you can get a safe FRP unlocking experience to your Wiko View4 Lite device easily and smoothly
How To Disable Factory Reset Protection
If you want to disable the
FRP
lock feature from your Huawei Y8p then you need to delete the Gmail Account from the device Settings. follow the below process completely to disable the Factory Reset Protection successfully: go to the settings menu=>> Accounts=>> select the Gmail id =>> remove account =>> that's it.
Info Device
SN: YFF6R20604014534
OEM Info IMEI1: 861490043******
OEM Info IMEI2: 861490043******
MEID: 00000000000000
Bootloader unlocked: YES
FB unlocked: YES
Battery voltage: -
Phone model: AQM-LX1
Build number: AQM-L21A 10.1.0.203(C432E2)
Vendor/Country: hw/meafnaf
System version: Skipped
Android version: 10
Base version: AQM-LGRP2-OVS 10.1.0.214
Custom version: AQM-L21A-CUST 10.1.0.3(C185)
Preload version: AQM-L21A-PRELOAD 10.1.0.1(C185R4)
Huawei-Over-the-Air info:
C_version: C185
D_version: D000
PLMN: 41003
BoardID: 7596
DeviceName: AQM-L21A
Done
How To Fix AQM-LX1 FIX Fingerprint after reset huawei id
Download