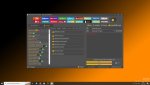 UNLOCKTOOL CRACKED - SERVER AUTH OK

•Download -
Run File loader as ADMINISTRATOR
▪︎Then execute the . ex UNlocktool
Note
Loader and UnlockTool. exe in the Download Link.....
Credits to the Owner Gautam kumar (ipwnder creator)
Note2
Those who are selling 80 days etc... they are selling the crack...
Note3
To log in - put any user and pass.. Please, at least a bit long so it runs without error....​